Ⅰ. Specification
| | | | | | |
| --- | --- | --- | --- | --- | --- |
| Product name | Product Model | Rated voltage | Dehumidification capacity | Rated Power | Working Environment |
| DEHUMIDIFIER | CUSH004 | 120-240V~ | 500mL/D (30°C >RH90%) | 30W | 15°C-40°C, >45%RH |
Ⅱ. Product Components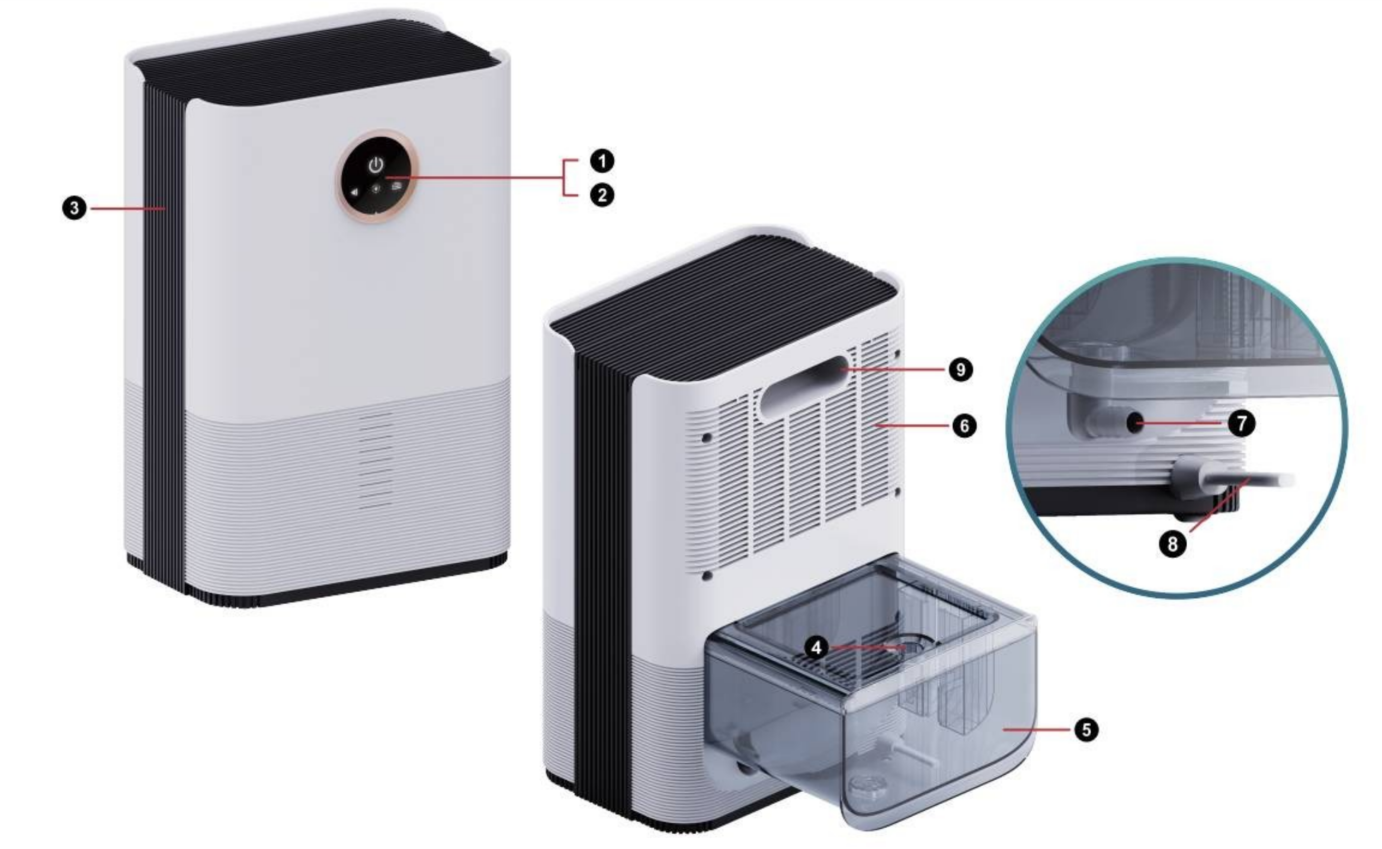 On/off button

Ambient light control

Dry air outlet

Water Inlet

Water storage tank

Air inlet

Drain

Power cord

Fuselage handle
Ⅲ. Product Instructions
After plugging into the socket, the indicator LED of the on/off button flashes into standby mode.

Press the ON/OFF button to turn on the dehumidifier, the indicator LED will light up.

By default, the ambient light is blue, click again to turn it off.

In the power-on state, press and hold the on/off button for 5 seconds to turn on the ambient light switching mode. At this time, the atmosphere indicator flashes. When the ambient light is flashing, press the on/off button to switch the color of the ambient light. The default colors are: blue, purple, orange, yellow, colored light

The fifth touch in the ambient light switching mode enters the off-screen sleep mode for energy-saving operation.

The default power-on state is blue ambient light (in this state, if you do not operate for 5 seconds, it will automatically enter the current state)
Red light and warning sound
When the water tank is full of water or the position of the water tank is wrong, the red light is on and a warning sound is issued.

It is necessary to pour out the water in the water tank, then put it back into the dehumidifier, the red indicator light goes out, and then start the dehumidifier again.
How to remove the water tank and dump the water
Unplug the power supply: When the water tank is full, the red full water light will flash, and the dehumidifier will automatically stop working.

Remove the water tank
Remove the tank cap and discard the collected water.

Put the water tank back into the dehumidifier, plug in the power supply to continue dehumidification, and press the "ON/OFF" button again.
Ⅳ. Function Features
Efficient dehumidification
A portable dehumidifier with a water tank of 1000ml capacity extracts up to 1000ml of water per day in a humid environment of 30°C, RH90%.

This dehumidifier is suitable for changing rooms, bedrooms, storage rooms, bathrooms, closets, RVs, and more. The moisture content is kept below 45%, and the moisture in the air is strongly removed.
Color night light with auto shut off
Our dehumidifier has 5 changing lights, which can create a sweet and romantic sleeping atmosphere for you. The automatic shut-off function prevents water from overflowing.

It is also very safe and convenient to use when you are not at home.
Space-saving and easy to carry
Perfect for controlling humidity in your home, such as the kitchen, bathroom, bedroom, basement, garage, and wardrobe. NOTE: The optimal operating temperature of the dehumidifier is 15-40 °C.
Create a healthy and comfortable environment
According to research, if the moisture in the air exceeds 50%, it will breed discomfort or other health problems. When the humidity exceeds 45%, the dehumidifier starts to work to collect moisture and release fresh air; providing you with a healthy and comfortable environment.
Ⅴ. Precautions
The more humid the ambient humidity, the better the effect.

Make sure that the dehumidifier is in the "OFF" state, unplug the wall socket, and use a soft cloth to remove dust or debris on the surface of the device and the air inlet.

This device is intended for home use. Please store the device upright to avoid water leakage.

Do not block the air inlet and outlet of the dehumidifier; do not insert foreign objects into the air outlet, otherwise, the equipment will be damaged.

The dehumidifier should be placed on a level surface; otherwise, the water will overflow. When the dehumidifier is not used for a long time, please be sure to drain the water tank.

Children should not use or play with this product alone.