Ⅰ. Product Parameters
| | | | | |
| --- | --- | --- | --- | --- |
| Product Name | Model NO. | Rated Voltage | Rated Frequency | Rated Power |
| HAIR CURLER | JFBA008 | 220V- | 50Hz | 50w |
Ⅱ. Product Display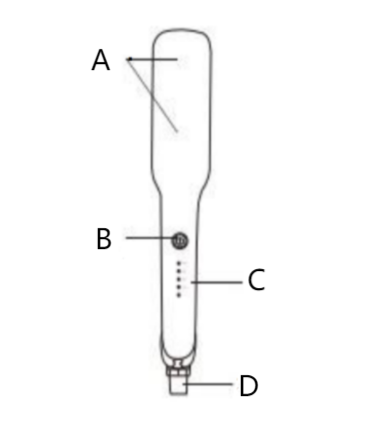 High temperature part *No touching

Short press to power on/long press for 2 seconds to power off

Temperature

360-degree rotating cord
Ⅲ. Operation Instructions
Short press the power button to power on, long press the power key 2s to power off

The lowest temperature(140°C)indicator light will be on when the product is on;Short press the power button again to adjust the temperature. The corresponding light will be on when you choose the relevant temperature and others off.

The product is set with an automatic shutdown function.
Ⅳ. Safety Precautions
Do not use it when you are n the bath or shower.

Do not use this appliance near water

Do not use this appliance near a bath, shower, wash basin, or other vessel filled with water

Check the condition of the power cord regularly; do not use the product if the plug, cord, or product itself is damaged

If the supply cord is damaged, it must be replaced by maintenance department or qualified personnel i to avoid accidents.

For added protection, it is recommended to install a residual current device (RCD) with a rated residual operating current which is below 30mA in the electrical circuit supplying the bathroom

This product is not recommended to be used by people (including children) who have physical, sensory or mental impairments, or lack relevant experience and common sense, unless they are used under the supervision and guidance of guardians.

Keep this product out of reach of children

Do not let the power cord touch the heating part of the product

Do not place this product on a surface that is not tolerant of heat and keep it away from flammable items such as towels or clothing

When the product is powered on, the user must not leave

Do not use this product on wigs

Always unplug the product after use

Never twine the power cord around the product

Store the product after it has cooled completely

Please keep the heating panel and product body clean. Do not use this product after using styling spray and hairspray, so as not to damage the product and affect the next use.

The product body and plate surface are coated with ceramic coating, which will wear out over time without affecting the normal function of the product.

When the product is used on color-treated hair, the plate may become colored.

Do not touch hot parts of the product to your body, especially eyes, ears, face and neck.

Please do not use it in special environments such as corrosive or explosive gases.