Ⅰ. Specifications
Product Name

Product model

Rated voltage

Heating model

Hair Straightener

ZFBA001

110~240V

PTC heating

Nominal frequency

Molding temperature

Rated power

/

50/60Hz

200℃~210℃

30W
Ⅱ. Product Diagram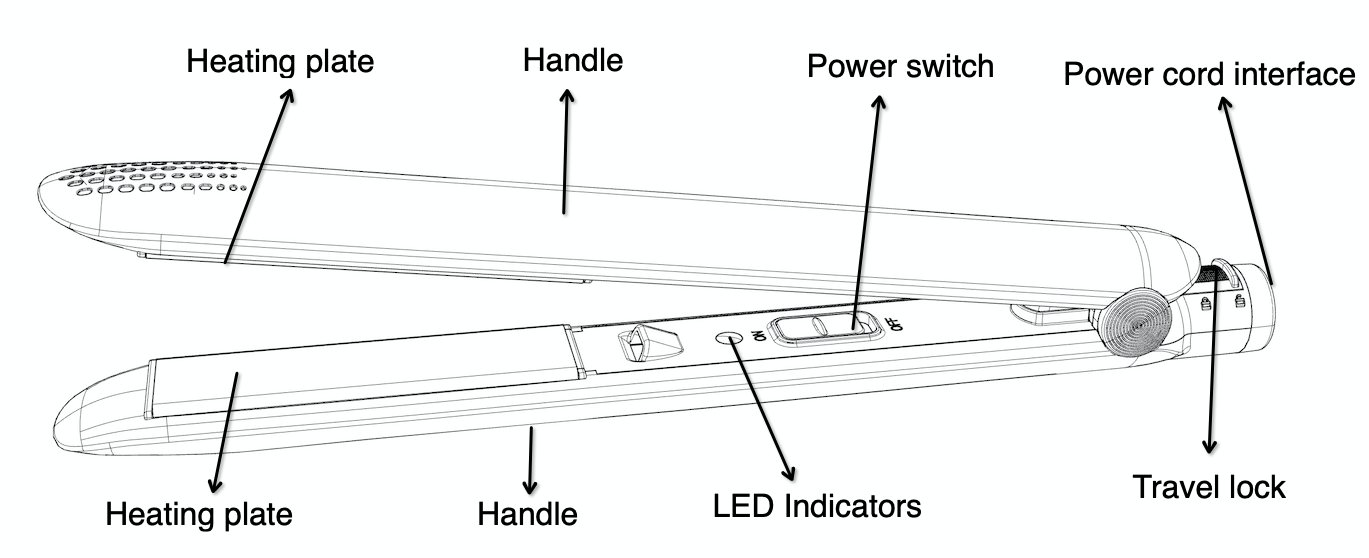 Power on: Push the switch button to the "ON" position, and the LED indicator light is on;

Power off: Pull the switch button to the "OFF" position, the LED indicator light is off;



Locking: Close both sides of the hair straightener handles tightly with the hand, and push the lock block forward to lock it;

Unlocking: Hold both sides of the closed hair straightener handles tightly with your hands, and pull the lock backward to unlock;



The heating plate is 3D floating, which can better make each hair evenly heated;
The power cord rotates 360 degrees, so it will not be tangled and knotted during use;
Ⅲ. Instructions for use
This product is a hair straightening iron, which can be used for straight hair, curly hair, inward buckle, valgus and other styles;

It is recommended to wash the hair before styling, let it dry after washing, and comb the hair to make it smooth and tangle-free; we recommend that you wrap a towel around your neck to prevent skin burns that may be caused by improper use;

If you are worried about this product could do damage to your hair, you can apply hair care oil products on your hair before styling;

Insert the product power cord plugs into the power socket first, then open the travel lock of the hair straightener;

Push the switch button of the hair straightener to the "ON" position, and the red LED indicator light is on, which means that the product has been turned on and heated; the constant temperature range after heating is stable at 200 ° C ~ 210 ° C; (the heating rate will be faster if you shut both heating plates together during the heating process of the product);

After using the product for styling. If you do not need to use it anymore, please put the ON/OFF switch in the "OFF" position to turn off the power and pull out the power cord plug;

Smooth&straight hair: Take a strand of hair in the middle and upper part, and slowly pull it down to the end of the hair;

Inner buckle/air bangs: Take a strand of hair in the middle and upper part, slowly pull it down to the end of the hair, rotate half a circle inward, stay for 5 to 8 seconds, and then release;


Eversion: Take a strand of hair in the middle and upper part, slowly pull it down to the end of the hair, rotate it half a circle outward, stay for 5 to 8 seconds, and then release;
Ⅳ. Cleaning and maintenance

Before cleaning, please shut down and unplug the power cord and let the product cool down to room temperature;

This product is not waterproof, do not immerse this appliance in water or rinse it directly with the tap;

Do not use steel wool, abrasive cleaners or corrosive liquids (such as gasoline or acetone), or chemicals to clean this product;

Use a soft slightly damp cloth or rubbing alcohol to clean and wipe clean with a soft dry cloth;
Note: Do not put the product that has not been completely cooled in the bag to avoid scalding;

Keep it out of the reachable area of children;

Please store it in a dry and dustless place;

Please avoid high temperatures or direct sunlight;
When this product (body/accessories) needs to be discarded, it cannot be treated as general household trash; please dispose of it according to the local residential waste disposal rules;
Ⅴ. Safety Instructions

Please make sure to read the safety instructions before use;

Please use it in accordance with the rated voltage of this product, and do not left the product when the power switch is turned on;

If the power cord or machine is damaged, please stop using it immediately and contact the customer service team to avoid danger;

After using or suspending use for a long time, please be sure to turn off the power and pull out the power plug from the socket, and be sure to store the product after it cools down. Clean the product with a slightly damp cloth;

Do not cover any items on the surface of the product when it is working, and it is forbidden for the power cord to touch or wrap around the heating plate of the product;

When an abnormality or failure occurs, please stop using it immediately and unplug the power cord to avoid injury or fire;

Do not use if insensitive to heat, otherwise burns or scalds may result;

Do not use the product with styling mousse/spray/hairspray;

When the product is used on dyed hair, the heating plate may be stained. The above situation does not affect the normal use of the product. Store the product after it cools down. Clean the product with a slightly damp cloth;

This product can only be used on dry natural human hair, not artificial hair or pet hair;

Do not allow unattended young children and persons with disabilities to use this appliance unless under the supervision of a person responsible for its safety to assist in its safe use;

Please do not let this product come into contact with water. If the appliance accidentally falls into water, please immediately unplug or disconnect the power supply under the premise of safety;

⚠️Warning: Do not store it in the reachable area of children and infants, do not let children and infants play/use it;
⚠️Warning: Do not use this appliance near a bathtub, tub, washbasin, or other utensils filled with water; prohibit using it while bathing or showering to prevent the danger of electric leakage;
Ⅵ. FAQ
Q1: Can I use it when the hair is wet?

A1: It is not allowed, can use it when the hair is almost dry.



Q2: If I have my hair permed, can I use it to straighten the hair?

A2: It could be used, but cannot straighten the curled hair totally, to make the effect better and lasting, we advise to go to the barber to do the professional straightening.



Q3: Does it have negative ions or not?

A3: It comes with 20 Million negative ions.



Q4: Will it be too hot to grasp or will it burn the head part?

A4: It comes with anti-scalding design, will not hurt your hand or head.



Q5: Is it 2 in 1 use?

A5: Yes, it is 2 in 1, straighten or curl.



Q6: How long can the effect lasts?

A6: It depends on the hardness of the hair, for natural soft hair, it could last longer. Normally straight hair could last 48h, curly hair could last 36h.



Q7: Does it come with safety lock?

A7: Yes, it comes with safety lock at the end.



Q8: If I have my hair dyed, can I use it?

A8: Yes, can use.