Ⅰ. Product illustrations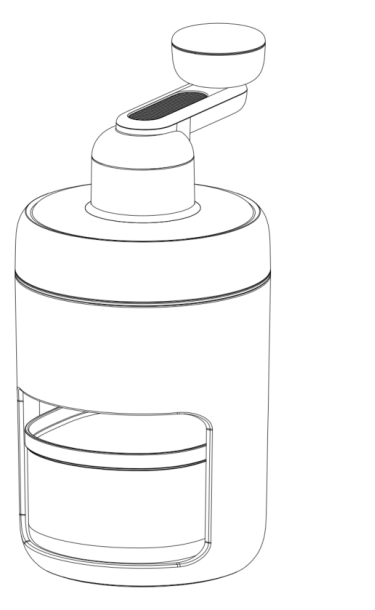 Ⅱ. Instructions
Install the upper cover accessory into the body

Press the upper cover to the bottom and rotate the buckle clockwise until it is secure

Align the handle with the screw and tighten it to complete the installation

Pour pre-frozen ice cubes into the body

Press the upper cover onto the ice and secure it

Hold the body with one hand and the handle with the other, and rotate the handle clockwise while pressing down until the ice is shaved.

Ⅲ. Product Features
This product can be used to make ice drinks, fresh fruit shaved ice, cocktails, etc. You can quickly turn ice cubes into soft snow, sprinkle them with jam, nuts, cookies, fruit, and other ingredients, and enjoy delicious shaved ice.

Ⅳ. Precautions
Clean the ice machine, blade, and storage box with a sponge and a small amount of detergent before use.

Use water not exceeding 60°C and a suitable amount of detergent to clean the product.

Be careful when handling the sharp blade to avoid injury. Keep the blade out of reach of children.

Do not heat or cook the product in a microwave or pot.

After daily cleaning, air dry the product and store it in a cool, dry place to prevent rusting of the blades.