Instruction Manual
Names of The Parts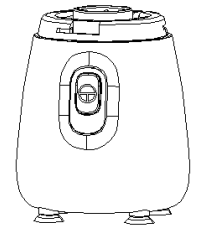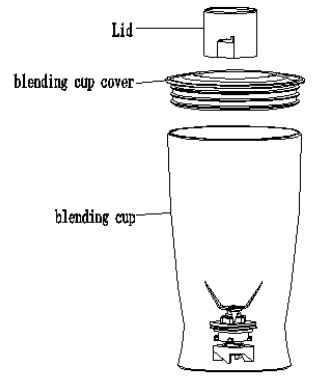 IMPORTANT SAFTY INSTRUCTION
Main Technical Parameters
Model: LLJH004
Rated voltage : 220-240V~
Frequency: 50-60Hz
Rated input power:250W
Blender jar Max Capacity: 600 ML
Protection against electric shock: type II
FOR YOU SAFETY, CAREFULLY READ ALL INSTRUCTIONS BEFORE OPERATING YOUR APPLIANCE
Unplug the appliance when it is not use. Make sure the appliance is unplug before assembling, disassembling, adding additional parts, and cleaning.
To reduce the risk of personal injury or damaged to the device, keep hands and utensils away from the cutting blade.
Do not directly use water to wash the main engine, and it will cause electrical failure or accident of motor and switch.
If the supply cord is damaged, it must be replaced by the manufacturer or its service agent or a similarly qualified person in order to avoid a hazard.
Always disconnect the appliance from the supply if it is left unattended and before assembling, disassembly or cleaning.
Appliances can be used by persons with reduced physical, sensory or mental capabilities or lack of experience and knowledge if they have been given supervision or instruction concerning use of the appliance in a safe way and if they understand the hazards involved.This appliance shall not be used by children. Keep the appliance and its cord out of reach of children.Children shall not play with the appliance. Cleaning and user maintenance shall not be made by children without supervision.
Care shall be taken when handling the sharp cutting blades, emptying the bowl and during cleaning.
Be careful if hot liquid is poured into the food processor or blender as it can be ejected out of the appliance due to a sudden steaming.
Switch off the appliance and disconnect from supply before changing accessories or approaching parts that move in use.
This appliance is intended to be used in household and similar applications such as:
– staff kitchen areas in shops, offices and other working environments;
– farm houses;
– by clients in hotels, motels and other residential type environments;
– bed and breakfast type environments.
Steps of using
blending :
1. Tighten the blend blade base at the bottom of the blender cup .
2. First, cut the carrot soaked for 24h into small cubes of 15mm. Fill the carrot with 2 portions and water with 3 portions to the maximum scale.
3. Close the lid and tighten it clockwise.
When using a tall cup, simply place the food into the cup and twist the cross blade to the bottom.
Power on.It usually takes 60 seconds to stir.
4. Place the mixing cup on the body, fix the upper concave part and the cup bottom convex part, and tighten it clockwise.
The machine is in working order.
Cleaning and maintenance
1、When cleaning attachment or wiping the host with damp cloth, be sure to unplug the power plug to avoid electric shock.
2、The machine should be frequently used, or save it in a dry ventilated place to prevent the motor from moisture.