Please find the product from Simplus Official Store on Lazada & Shopee.
👉Thailand:
👉Singapore:
👉Philippines:
👉Vietnam:
👉Malaysia:

👉Indonesia:
Baking on double-sided, fast and efficient.
Large and wide groove design, easy to use.
Excellent material, green and environmental protection.
6 levels of temperature-controlled.
MAIN COMPONENTS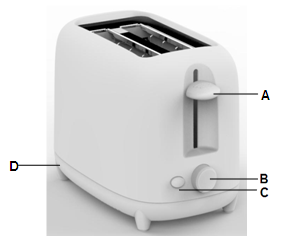 A. Start control B. Browning control C. STOP button D. Crumb tray
Place your toaster on a flat, dry, stable surface.
Plug the toaster in, and adjust it to your required toasting time, using the Browning control (B).
Place bread or other food suitable for toasting into the slot, then press down the Start control (A).
It will remain down until the bread is toasted.
If you wish to stop the toasting process, press the STOPbutton (C), this will automatically eject the toast, and cancel the heating elements.
If the bread sticks in the toaster, unplug it, wait for it to cool, then remove the bread. NEVER USE METAL UTENSILS TO REMOVE THE BREAD.
After use, slide out the Crumb tray (D), wipe away crumbs using a dry cloth.Insure to insert the crumb tray before using the toaster again.
Always allow at least 1 minute's cooling time between cycles if toaster is being used more than once at a time.
If the lead connecting the toaster to the power supply is damaged, it should only be replaced by a qualified service engineer or the toaster manufacturer.
Must put in the bread when using, the toaster can not be used without bread.
This toaster is only for home use.
Voltage: 220v/50Hz
Power: 750w
Gear selection: 6 gears
Number of bread slots: 2 slices
Size: 23 x 14 x 16cm