Ⅰ. Model Specification
| | | | | | |
| --- | --- | --- | --- | --- | --- |
| Model No. | TZGH001 | Capacity | 0.5kg -180kg | LED | Kg/Lb |
| MFG Code | B0028 | Division | 0.05kg | Temp. for work | 10-35℃ |
| Power | 2*AAA | Display | LED | / | / |
Ⅱ. Components and installation drawings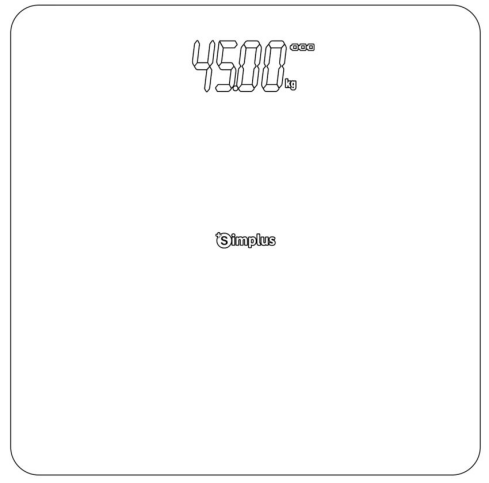 Ⅲ. Instructions
To make sure of accuracy, place the scale on a hard, flat floor and avoid carpets or soft surfaces.

Gently step on the scale. The scale will automatically turn on.

Stand evenly, without moving, and wait until your weight is locked in place.
Scale overload, (Maximum weight capacity is indicated on the scale.) Please step off to avoid damage.
Battery power is low. Please install a new battery.
If the scale displays T when you step off the scale, there is an error. Please re-test.

Ⅳ. Advice for use and care
The glass platform will be slippery when it is wet. Keep it dry.
When weighing yourself, remain motionless.
DO NOT strike, shock, or drop the scale.
Treat the scale with care, as it is a precise instrument.
Clean the scale with a damp cloth and avoid water getting inside the scale.
DO NOT use chemicals/abrasive cleaning agents.

Keep the scale in a cool, dry location.

Always keep your scale in a horizontal position.

If the scale fails to turn on, check that the battery is properly in place and that it still has power. In the event of a faulty battery, replace it with a new battery.
If an error message persists, or the scale refuses to turn off; please remove the battery and re-insert after 3 or 4 seconds.

Do not use the scale for commercial purposes.
Ⅴ. FAQ
Q1: Are the numbers accurate?

A1: Yes it is accurate.



Q2: What is the measuring range of this scale?

A2: 0.5-180kg is ok



Q3: What type of battery can be used?

A3: It needs 2 pcs AAA batteries.



Q4: Is it durable product?

A4: Yes, it is duralbe and we provide 1-year warranty.



Q5: Does this scale measure body fat percentage?

A5: Sorry this scale doesn't have this function.



Q6: Can I weigh something on the carpet?

A6: Sorry we don't recommend that, please use it on the ground.